Turmeric leaves are a gift to mankind, or at-least to people who love cooking with these leaves. Wrapping food with these leaves and cooking them, always leaves me bowled over due to the heady aroma that spreads throughout the house! I crave for these moments during cooking.
I can even imagine the aroma of cooked turmeric leaves when I'm not cooking with them. Just imagine your work gets you to a very tiring mood and then you go up to the kitchen and make some simple steamed idlis with turmeric leaves and the fragrance fills your place.
In my case, as a food lover, it makes me happy and satisfied. :) This is the amount of potent contained in the turmeric leaves and this is why I can go on writing more about these fragrant leaves.
Cucumber idli is a Mangalorean breakfast recipe but majorly cooked in the Konkani household and I happened to learn this recipe from a neighbor who also happens be hailing from the same. The best part is when I tasted her cucumber idlis for the first time I could recall myself tasting something similar during my childhood.
Mother used to prepare some idli which was sweet and quite pale in color, but it used to be sticky at the sides. May be something used to go wrong. My sister and I used to silently eat them and go off to school. Nothing used to bother me other than my studies and books during my school days. I have a sweet tooth right from childhood, so I really didn't mind eating them. My dad hated it :) Sweet mother of mine, she actually stopped making them. As years passed, I too forgot about that breakfast item which I used to call "Sweet Idli". I wish she existed today so that I could ask her what was it in real. May be it was the same "Kadamb" or may be it wasn't!
Kadamb (Cucumber Idli)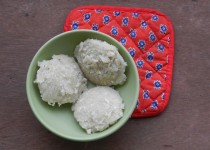 Kadamb (Cucumber Idli) is a Mangalorean and Konkani recipe, mainly served for breakfast or it coud be served as an evening snack too. It is made from the simplest ingredients available and a very quick form of idli.
Prep Time: 50 minutes
Cook time: 10 minutes
Yield: 6 Idlis
Ingredients:
Instructions:
Note: If you do not have access to turmeric leaves you can use banana leaves as well. Alternatively you can even use a normal idli stand. However, in either of these alternatives you will not get the same heady aroma as you get from the turmeric leaves.
Step 1: Mix the grated cucumber, rice rava, jaggery, coconut and salt in a mixing bowl.
Step 2: Let this mixture stand for about 45 minutes so that rice rava can soak in the cucumber mixture.
Step 3: After the standing time is done, place the turmeric leaves in this fashion.
Step 4: Place a dollop (approximately 4 tbsp) of the idli mixture in the center.
Step 5: Fold all the four edges of the leaves as shown in the pictures that follow. Remember that this needs to be tightly folded.
Step 6: Flip the folded leaf pocket to the other side and place it in an idli steamer. Make 6 of this kind and place them one above the other in the steamer.
Step 7: Steam this for 10 minutes on a high flame.
Step 8: After 10 minutes, open the steamer lid immediately and unfold the idlis. Serve with red chutney powder.
Note: If you do not have an idli steamer, use a normal pressure cooker. Add water to the cooker at a depth of about 2 inches. Then place another vessel inside the cooker and place the folded leaves into this vessel. Remove the whistle knob of the lid and cook for ten minutes on a high flame. Open the pressure cooker lid immediately after 10 minutes.