This is my first post under the Baking section of FFJ. Lately, my baking experiments have turned out to be very favorable to me. Along with food photography, my groundwork on mixing and baking ingredients and doing the math on the ratios of flour, liquid and sugar are paying off.
So as I am an ardent fan of the recipes that Nigella makes, I was reading this recipe on her website and I wanted to convert this cute mug-cake into a vegetarian version. It just happened in literally 5 minutes! The sweet smell of vanilla and chocolate swept through the whole house and after the mug-cake was baked, it was neatly poised on the table, waiting. ;)
If you want to gift someone something unique, I strongly feel this version of a vegetarian-single-serve chocolate cake, decorated with chocolate shards/chips/nuts can impress your loved ones.
My favorite way of indulging into this cake with hot chocolate syrup. You can try it with a scoop of ice-cream as well.
Eggless and Microwaved, 5 Minute, Coffee-Mug Chocolate Cake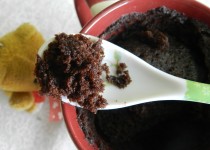 Eggless and Microwaved, 5 Minute, Coffee-Mug Chocolate Cake is a single-serve vegetarian chocolate cake made from the most basic ingredients of baking i.e. flour, sugar and milk.
Note: Baking a cake is an art of mixing ingredients up to perfection. Do not try to change the proportions or steps given in any of the baking recipes. Follow every word and step, to a tee an you'll find yourself relishing a perfect piece of cake.
Prep Time: 2 minutes
Cook time: 3 minutes
Yield: 1 serving
Ingredients:
Instructions:
Step 1: In a mixing bowl, sieve the flour.
Step2: Sieve the powdered sugar into the same bowl.
Step 3: Sieve the cocoa powder into the same bowl.
Step 4: Sieve the baking soda as well.
Step 5: Add the salt and mix these dry ingredients so that they blend well.
Step 6: Add the milk, oil and vanilla extract.
Step 7: Mix well with a spoon in the same direction avoiding lumps. Pour this batter into a coffee mug.
Step 8: Bake this in the microwave mode (Not the convection mode) on a Medium-High for 3 minutes or bake till a tooth pick pierced at the center of the cake comes out clean.
Some quick notes:
1. You can relish this cake with chocolate syrup (Melted Chocolate) or a scoop of vanilla ice-cream can make a very good pair with this cake
2. Please ensure that you use a microwave safe mug for this cake.