Although I hail from a traditional family, my knowledge on mythology is strapped. I'm bemused with the varying mythological characters in Ramayana and Mahabharata. If in the worst case, I'm asked any question on mythology (I'll never wish for this), my answers could be devastating and embarrassing. But I must admit that the rules and the legends behind certain rituals are really astounding and projects how our ancestors were leading their lives, something that we cannot imagine about now.
Some stories in these epics have passed my ears and are a subject of amusement for me. The rhythmic verses are so beautifully written, sometimes I get blown away with the plots that adorn these epics. The glorious stories behind Ganesha festival, Deepavali, Janmashtami etc. are refreshingly interesting.
I was just trying to learn the origin of Avial and I found that there is a mythical story behind its discovery too. :) This amazed me and I dug-in further to learn that this recipe is told to be discovered by Bhima (one of the Pandavas).
The Story
The Pandavas lost a game of dice. As per the game, the loser was required to go on an exile for 12 years and had to spend 13th year as an unrecognized person. They spent the 12 years in a forest and after this all (Pandavas) lead to the dynasty of King Virat to spend their 13th year in a state of non-recognition. All of them disguised themselves in variations. Interestingly, Bhima(The mightiest of all five) disguised himself as Ballav, a chief cook in the royal kitchen, although he knew nothing about cooking!
A fine day, he was ordered to prepare food for quite a large number of King Virata's guests. Ballav (Bhima) had no ingrdients in the kitchen and was urgently required to rustle up some food. Disadvantageously he didn't have any idea about a single recipe! He mixed all the vegetables that he had in hand, cooked them and topped them with coconut. Today this is one the exotic festive dishes, named as Avial, and is very famous in the Udupi, Kerala and Tamil Nadu kitchen. :)
I love such beautiful stories. Although these are mythical stories and events, Avial has become close to my heart subconsciously, just because it comes from the kitchen of a cook who accidentally discovered this recipe. :)
Avial (Vegetables in a Tempered Coconut and Yoghurt gravy)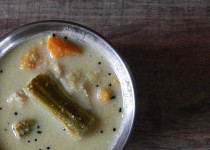 Avial is a curry made from mixed vegetables cooked in ground coconut and yoghurt. This is tempered with coconut oil, curry leaves, asafetida and mustard seeds.
Prep Time: 15 minutes
Cook time: 20 minutes
Yield: 2-3 Servings
Ingredients:
Instructions:
Step 1: In a pressure cooker, add the chopped vegetables and turmeric, except for cauliflower, drumsticks and raw banana, with water (250ml) and cook for 10 minutes (1 whistle) and let it cool.
Step 2: In a vessel add 250 ml of water, heat and let it boil on a high flame. Simmer the flame, add the cauliflower, drumsticks and raw banana into this boiling water and cook till the vegetables become tender on a sim.
Step 3: Once the vegetables are cooked, put them in a vessel to make the curry. Remember: Do not discard the water that remains from the cooking. Use this along with vegetables as well.
Step 4: Bring this mixture to a boil on a high flame, after it is boiled simmer the flame.
Step 5: In a blender, grind coconut, green chillies and cumin seeds into a paste adding 4 tbsp of water.
Step 6: Add the coconut mixture to the cooking vegetables. Mix gently.
Step 7: Add the salt, mix gently on a low flame for 2 minutes. Turn off the heat and let it cool for 5 minutes.
Step 8: After it cools, add the yoghurt and mix gently.
Step 9: Prepare for the tempering. Heat coconut oil. Once it heats add the mustard seeds. Wait for the seeds to stop popping. On a low flame, add the curry leaves, asafetida(hing) and red chillies. Wait for 5 seconds. Add this to the prepared curry.
Step 10: Serve hot with rice.