A full course Udupi meal is always incomplete without "Paramanna" which is a name given to Kheer or Ksheer or Payasam, read as "Param-Anna" which means "Divine Food" or "Supreme Food". "Ksheer" is the sanskrit name for "Kheer".
Buying books and stocking them at home is a fad for me. Whether I'll be reading them or not, I just want to own a copy of some books just because I feel they will prove to be useful for me ahead. On a similar note, I do have a good collection of cookbooks. In this book by Pushpesh Pant, the author conveys a lot about, how food satisfies a human soul. His graceful style of writing and also the recipes puts me in a trance. Reading this book, one will know the way in which food affects the state of mind. You can now relate as to why a lot of people eat chocolates just to enhance their mood.
In his book Pushpesh Pant has given his version of Vermicelli Kheer and he describes about an ancient Hindu myth which says that Sheshnag (Lord Vishnu's bed) floats on an ocean of Ksheer (Kheer/Payasam/Paramanna) and the ocean is called Ksheersagar.
This myth seems like a beautiful web of connections, and as I always felt, mythology has some interesting stories, although I'm not too much into it.
This recipe of Panamanian/Payasam/Kheer can be made in two different ways, option 1) Boiling poha/avalakki rice with sugar and milk and option 2) Boiling poha/avalakki with jaggery and coconut milk. Traditionally, it is always the first option i.e. rice boiled in milk and sugar.
Avalakki Kheer (Flattened Rice Pudding)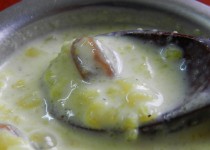 Kheer is an Indian sweet dish that is generally prepared during festive occasions, Naivedyams or it could also be served after a royal lunch. Learn More
Prep Time: 30 minutes
Cook time: 20 minutes
Yield: 3 Servings
Ingredients:
Instructions:
Step 1: Soak the poha/avalakki in about 2 cups of water for 30 minutes.
Step 2: On a medium flame roast the dry fruits (Raisins and Cashew Nuts) in ghee, till it turns golden brown and keep it aside.
Step 3: In a sauce pan, add milk and boil it on a medium flame.
Step 4: Once the milk starts boiling, lower the flame and add sugar and Elaichi Powder.
Step 5: Let this mixture boil for 10 minutes on a low flame, and stir continuously with a spoon to avoid the milk from burning. Or boil till the milk turns creamy.
Step 6: Drain the excess water from the soaked poha/avalakki and add this to the milk mixture. Let the mixture come to a boil on a low flame.
Step 7: Add saffron strands to this mixture and stir.
Step 8: Let this mixture cook for another 10 minutes on a low flame. Stir continuously.
Step 9: Turn off the heat. Add the roasted dry fruits, mix well and serve.