"Without new experiences, something inside of us sleeps. The sleeper must awaken." This quote by Frank Herbert appealed to me as I came by it. This is really the truth. New events, good or bad can make us wiser. Travelling too can broaden our perspective and the way we look at life. A new place visited expands the horizons of mindfulness. I love travelling and I'm happy that my better half loves the same. :)
Travelling during the monsoons is far more exciting and challenging. Munnar was one such trip. A month ago I'd been to this wonderful green location with Vinay and family. It was a treat to be there. Moreover, I learnt quite a lot during the trip. Being a tea lover my interest towards learning about tea and its benefits grew even more. Munnar has a huge space set for growing tea and tea factories. I can still get the raw fragrance of the tea leaves whenever I look into my photo collection. :)
In Munnar we were housed at Glenmore Resort. The location of the resort alone is more than enough for us to love the place where we stayed. The stay was smoothened by the ambience of the people in the resort. The food? It was homely. I never felt that I was away from home made goodness. Given a chance probably Vinay and I will love to visit Munnar just to relish the divine food of Glenmore.
A simple recipe of a vegetable curry stole our hearts as it was really light and free from complexity. It tastes a little sweet with the flavors of spices coming along. As a take away, we requested for the recipe with the cook and he generously rendered the recipe. Thanks to him :) Now this is an asset in my recipe journal.
Note that you are free to choose any vegetable you want in this recipe. I would like to suggest a few i.e. cauliflower, capsicum, baby corn, mint leaves, dill leaves, radish.
Mix Vegetable Kurma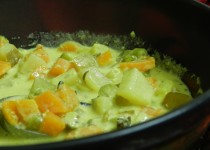 Mix Vegetable Kurma is a accompaniment that could be served with phulkas and puris. Its a preparation made from cashew paste and milk.
Prep Time: 15 minutes
Cook time: 20 minutes
Yield: 3-4 servings
Ingredients:
Instructions:
Step 1: Blend the cashews with 4 tbsp of water.
Step 2: Cook the vegetables in a micro oven or pressure cooker with 250ml of water.
Step 3: In a wok heat oil and add the mustard seeds. Wait for the seeds to stop popping. Lower the flame and then add cumin seeds, red chilly, cinnamon, star anise and cloves. Make sure the spices don't burn. Stir gently for 15-20 seconds.
Step 4: Add the cashew paste and stir gently. You can add another 4 tbsp of water at this stage if you would want to ease the stirring. Allow this mixture to cook and start bubbling on a medium flame.
Step 5: Next add the cooked vegetables. Mix well.
Step 6: Once the mixture has blended well, add milk.
Step 7: Stir well, add the turmeric powder, sugar and salt. Bring the mixture to a boil.
Step 8: Turn off the heat and serve! :) You are free to garnish this with dill leaves or cilantro.
PS: For a North Indian version please check this recipe by Vanitha