I used to be a big time coffee addict in my previous years. My day could never start without a cup of strong filter coffee. But when I realized the negative effects of caffeine consumption, I decided to put a bridle to my addiction. It was tough at first. Really tough! Now I can happily wake up in the morning and start my day without that cup of coffee :) Currently my day jumps off with a cup of tea or flavored milk. Of course, when I catch cold with a soar throat, coffee does come to my rescue. ;)
Tea also has an unsubstantial quantity of caffeine, but this is generally a varying quantity and depends on the brewing time of the tea leaves. During our family tour to Munnar we visited the Kannan Devan demo tea factory. Here is were we learnt that the method of tea preparation back at home is completely at fault. The instructor explained to us the original method of brewing tea. Thankfully, we got a chance to correct ourselves.
Being a tea lover and admirer, it was a fun to watch the processing of tea leaves. For enjoying our daily cup of tea, there is so much of hard machine work that goes into the cutting and fermentation of tea leaves. I was amazed by the entire process. I think my pictures can do a better job than my writing. :)
Brewing a cup of Tea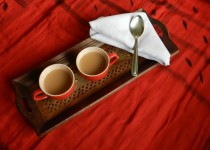 Tea is an aromatic beverage commonly prepared by pouring boiling hot water over cured leaves of the Camellia sinensis plant. The term also refers to the plant itself. After water, tea is the most widely consumed beverage in the world. It has a cooling, slightly bitter, astringent flavour which many people enjoy. Learn More >>
Cook time: 15 minutes
Yield: 4 Cups
Ingredients:
Instructions:
Step 1: In a sauce pan boil 250 ml of water. After the water gets boiled turn off the heat and wait for 15 seconds. (You can use water from a recently boiled kettle)
Step 2: Add tea leaves into the saucepan. Please Note: Do not boil after adding the leaves. Allow the tea leaves to infuse in the heat of boiled water alone.
Step 3: Keep the saucepan covered with a lid for exactly 5 minutes. Not a minute less or more.
Step 4: On the other hand boil 250 ml of thick milk separately and keep aside.
Step 5: After 5 minutes, strain the tea leaves from the water.
Step 6: Add the boiled milk to the tea decoction.
Step 7: Add the preparation to tea cups, add sugar and serve.
Note: 1. Never ever boil the tea leaves. You need to allow the tea leaves to infuse in the heat of the water alone. Failing this, the polyphenyles oxidize very soon which reduces the aroma of tea.

2. Do not infuse the tea in warm water for more than five minutes. If otherwise, there will be an increase in microorganisms.

3. Covering the sauce pan while the tea leaves infuse is mandatory. This is to avoid the aroma from escaping.

4. Do not drink tea when it is too hot or too cold.

5. At a time do not drink more than 125 ml of tea.
When I made tea using this method for the first time, it wasn't tasting well at all. If the same happens to you, don't be discouraged. A constant practice can help you better. Same was with me. Today, the tea comes out perfect for me. :)
NOTE: Alternatively, to get a creamier tea, you can reduce the amount of water and increase the quantity of milk. Say 125 ml of water and 375 ml of milk.