I've grown up in an environment where food was confined to more of rice. But when recently I moved into a new life, there was quite a transition in the type of food I have started consuming. It is an obvious fact once a girl gets married. I slowly started realizing there is something other than just eating rice and sambar for meals. Believe it or not, I tasted Raggi Mudde just about recently and I really appreciate its power.
Finger Millet / Raagi on its own has a rich dose of nutrients. I would just wish to reproduce a part from wikipedia here.
Courtesy : Wikipedia
Nutritive value of Ragi per 100 g
Protein 7.3 g
Fat 1.4 g
Carbohydrate 72 g
Minerals 2.7 g
Calcium 344 mg
Fibre 3.6 g
Energy 328 kCal
It would seem a little absurd on my part to post a common recipe like this. But then, the goodness of this recipe kept pushing me to give it a little space on Food for Joy! :)
Raagi Mudde (Finger - Millet Flour Balls)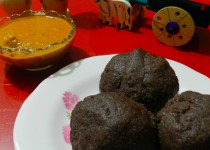 Raagi Mudde is a wholesome meal in Karnataka and Rayalaseema region in India.[1] It is mainly popular with the rural folk of Karnataka. In Tamil, especially in Western Tamil Nadu it is called Ragi Kali. Learn More >>
Prep Time: 5 minutes
Cook time: 15 minutes
Yield: 6 Balls
Ingredients:
Instructions:
Step 1: In a wok, boil water.
Step 2: When the water bubbles, add salt and turn the flame to low and add raagi slowly, preferably through a sieve.**
Step 3: Use a wooden spoon or stirrer and stir gently avoiding lumps on a low flame.
Step 4: Once the mixture reaches a very thick consistency, turn off the heat and let it cool.
Step 5: Once the mixture is cooled, dip your hands in water and make raagi balls from the mixture. Serve hot with any sambar of your choice.
Note:
*The amount of water should be twice the volume of Raagi.
**It is always better to add raagi to the boiling mixture through a sieve. Sieving the flour before hand may not help as much.