It is always a wonderful weather at Nitte. The best thing about Nitte is the lush green sceneries. The summers are not accompanied with the heat like that of Udupi or Mangalore. When it rains, the atmosphere becomes something that is above the levels of heaven. My husband and I always loved silent places with greenery and a cold weather.
Cooking is a pleasure here, because I keep trying new stuff, sometimes its a hit, sometimes I fail, and I learn so much from these ups and downs. I always feared preparing dosas. But recently, I tried my hands on and it was good.
Talking about dosas, my mother used to be the best in all in preparing the dosa. Ever since we lost her recently, I realized there are so many things that I wanted to ask and learn from her. Her untimely death had a bad impact on everybody in the house. There was break from everything. Moreover, she knew certain things that just got swept away untold with her soul. Everything of hers just became a memory. I'm only happy with the fact, that her last happy moments were during my wedding. :)
All I learnt from last few days, is to keep a constant tab on ourselves, our diet, our cooking, our eating habits. Not only this, we need to keep our mental health in the right track. If you are mentally and spiritually unhappy, that may take away a lot from you.
I would say, depending more on the homemade comfort food is best option to stay healthy. A simple, but heavy breakfast that is accompanied with plain or flavored milk. Lunch that is rich in vitamins, greens and vegetables. Dinner, of course, should be a light meal. I used to be a coffee addict. Now, I guess it has been a long long time since I had a cup of coffee. Tea, is a better option, if you would love to switch over during your tea-time.
Talking about comfort food, Upma, the queen of a list of South Indian breakfast recipes, is the best form of a nice, peaceful morning. Upma / Uppittu is actually one of the most hated breakfast among most people, just because it gets a little bland sometimes. There is a nice way of making it interesting and tasteful.
I learnt this method of Upma quite recently. From every bite you get the crunch of vegetables and the fragrance of the seasoning. Apparently, I have seen most of my close relatives eating Upma with thick curd. I happened to try this and realized that its a winning combination and very comforting. My family loves this combo too.
Mix Vegetable Upma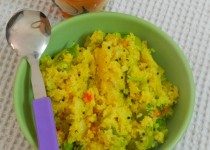 Upma is usually made with Semolina (called Rava or Suji in India). There are many ways Upma is prepared; indeed, every upma cook usually will incorporate variations in flavour when making Upma. This variation is obtained by varying or emphasising particular spices Learn More >>
Prep Time: 15 minutes
Cook time: 20 minutes
Yield: 2-3 Servings
Ingredients:
Instructions:
Before starting the preparation, you need to cook the vegetables using 1 cup of water (i.e. beans, tomato and capsicum) separately either in a pressure cooker or an oven. Do not cook them completely. Let it be just-cooked.
Step 1: Heat a wok, and add oil. Once the oil turns hot, add mustard seeds. Now, turn off the heat, and add the remaining seasoning ingredients i.e. urad dal, channa dal, curry leaves.***
Step 2: Turn on the heat and add chopped onions, chopped green chillies and fry till it just starts turning transparent. Then add the turmeric powder.
Step 3: Add the remaining cooked vegetables to the wok and fry them along with the onions. At this stage you need to add salt. Mix well.
Step 4: Add water to this mixture. Keep stirring gently. Wait till the mixture starts boiling and bubbling.
Step 5: At this stage, reduce the heat to sim, add the wheat rava. Do not stir, you need to just fold the mixture. The upma neads to be airy, hence you need to fold and not stir.
Step 6: Add ghee over the top of the upma, fold in the upma, add coriander leaves on top and serve hot.