I've always loved to try out new recipes. Soon after I got married, I've been learning a lot of tips and tricks on cooking and various methods of preparing sambars/rasams from my MIL and FIL ;) The best part now is I've learned to be a bit more quicker as well. Both my in – laws have unknowingly played an important part in helping me improve what comes from the kitchen.
Akki Rotti / Rice Rotti is a breakfast dish that I learnt from them. The best part of this breakfast item is that it can be prepared from left over rice too. I have come to realize that onions enhances the taste of the outcome. I know there are many people out there who do not prefer onions and garlic in their food. If you do not prefer to add onions to akki rotti, you can try replacing them with the stalk of coriander leaves.
The main reason that inspired me to write this post is the arrival of a new and first camera, a gift from that very special person! :) Thanks to him, I have started getting more closer to photography. These shots are some of my very first pictures. And I must admit, photography is something really adventurous.
A chutney made using coconut goes very well with akki rotti. Seasoning the chutney is very important as it introduces a very heavenly flavor in the chutney. If you are a typical South Indian it goes without saying that you and your family will love to have this as their breakfast.
There is one thing I always believe i.e. "The dish with few ingredients is more tasty."
The recipe of Akki Rotti is very simple. It just requires the most basic ingredients you'll find in any kitchen.
Akki Rotti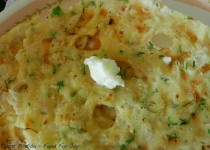 Akki Rotti (Kannada: ಅಕ್ಕಿ ರೊಟ್ಟಿ) is a rice-based breakfast item unique to the state of Karnataka, India. Akki-Rotti means rice-pancake in the native language, Kannada. Learn More >>
Prep Time: 25 minutes
Cook time: 45 (for 7-8 Rottis in total) minutes
Yield: 7-10 Rottis (3 Servings)
Ingredients:
Instructions:
Note:
1) You can make these rottis with rice flour alone also.
2) If you want to add left over cooked rice to the mixture, you need to mix the cooked rice and flour in 2:1 ratio.
3) Ensure that the cooked rice is smooth/soft enough to be knead along with the dough. If the cooked rice is too grainy and dry, then you need to cook it in a pressure cooker for ten minutes.
---
Step 1: Mix the rice + rice flour, onions, green chillies, coriander leaves, vegetable oil, and salt and make a mixture.
Step 2: Make a soft dough by adding sufficient amount of water. Knead the dough till it becomes smooth as shown in the pictures.
Step 3: Let the dough rest for 15 minutes.
Step 4: Pinch off a small quantity of dough and roll it into a ball shape.
Step 5: Take a cold* dosa tava. Dip your fingers in water and then pat the dough ball into the shape of a rotti on the tava. Make few holes in the rotti as shown in the pic. This is to ensure that the ghee or butter reaches through the gaps. Now start heating the rotti in a high flame. High flame ensures that the rotti is soft enough.
Step 6: Once half the rotti is done it'll turn brown on the lower side. Add some ghee or butter to the rotti. You need to flip over the rotti to roast the other side. Once the other side also turns brown and crispy you may take it off the pan and serve it hot with coconut chutney.
*Note:
1) You need to use a cold tava for patting the rotti, else you may get your fingers burnt. Keep dipping your fingers in water while patting the rotti on the tava to ensure that the dough doesn't stick to your fingers.
2) Once you are done with making a rotti, you can plunge the tava in cold running water, reduce the temperature of the tava and use it to make the next one.