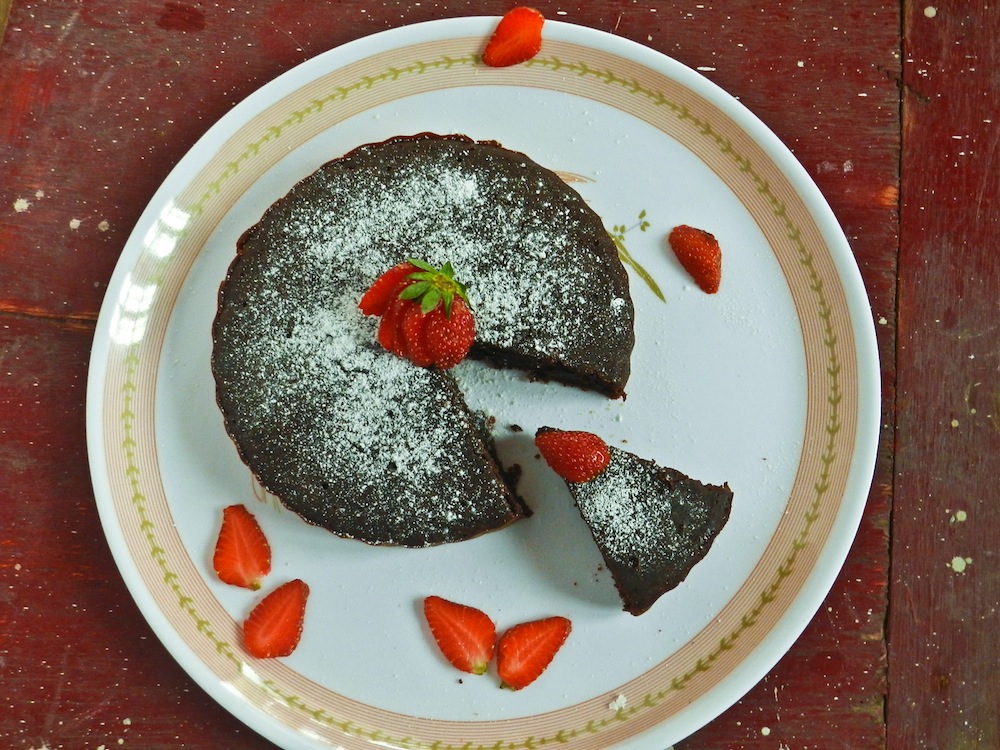 I have never found a person in this round world who doesn't binge on anything chocolate. I can't resist chocolate and there is no other flavor that could replace chocolate. Plain, melted and warm milk chocolate is something I can't resist. It is just not with me, I'm sure nobody can resist the chocolaty flavors tickling the taste buds.
Someday I got down to write a cake recipe in a slip of paper, which was a success in practical. Things fell in place for me and I decided to put forth this recipe on my blog. This is the third cake recipe in my repertoire and it is relieving for me, since it uses whole-wheat flour and jaggery just as my whole wheat vanilla cake recipe. I don't think one would miss maida / plain flour in whole-wheat cakes.
I replaced milk with plain water just to bring out a vegan version of a whole-wheat cake. The ingredients that fall into this cake are really simple which would be anytime lying around if I just want to make this cake out of temptation.
I generally skip topping my cakes without any reason, but if I did, it would be a simple warm chocolate syrup. A few readers wrote to me asking if I could put up a recipe for the frosting for the wheat cake. Honestly speaking, every time I end up slicing the cake when it is just out of the oven, pop a little piece into my mouth and pack it for friends or relatives, and I do not wait to frost it, or you could call it my impatience :) May be I'll put up a cake recipe with the frosting the next time I bake!
One can dress her cake in any fashion, it all depends on the taste buds and mood. It could be chocolate, vanilla, honey dressing with powdered sugar, butter or cream frosting or a fruit jam too! My favorite way of indulging into any cake, I re-write, is warm melted chocolate.
A slice of bittersweet chocolate cake is a blessing is disguise. :) I only wish it was healthy! :P
Eggless Whole Wheat Flour Chocolate Cake (Vegan Version)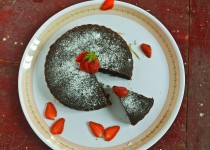 This recipe is a vegan version (Uses no dairy products). You could make your own frosting for this recipe.
Prep Time: 20 minutes
Cook time: 25 minutes
Yield: 7 inch round cake - 8 pieces
Ingredients:
Instructions:
Step 1: Grease the cake tin throughout with 1 tsp of oil. Dust 2 tsp of wheat flour throughout and tap the cake tin so that the cake tin is evenly dusted with the flour. (The wheat flour sticks to the greased cake tin and this ensures your cake doesn't stick to the cake tin while unmolding.) Keep the cake tin aside.
Step 2: Pre-Heat the oven to 180°C / 350°F for 10 minutes.
Step 3: Dissolve jaggery in Water. If there are any impurities or dusty particles, strain the sweet liquid through a sieve. Mix in the vanilla extract. Keep this aside.
Step 4: Sift Wheat flour, Cocoa Powder, salt, baking powder (Dry Ingredients) through a sieve. (At least twice)
Step 5: Once sifted, mix all the dry ingredients thoroughly using a spoon. This is just to ensure the dry ingredients are evenly distributed throughout the wheat flour.
Step 6: Make a depression at the center of the flour mixture, add in the oil. Mix very gently.
Step 7: Next add in the jaggery + vanilla water to the mixture. Mix gently with a spoon and not a beater. If the mixture turns out lumpy, don't bother. That'll not come in your cake's way, since wheat flour manages itself while baking. But avoid over mixing as much as possible.
Step 8: Pour the batter into the prepared cake tin. Tap the cake tin on the kitchen counter five times to remove air bubbles.
Step 9: Immediately, slide the cake tin into the oven and bake at 180°C / 350°F for 20-25 minutes or bake until a toothpick inserted into the center of the cake comes out clean. The baking time depends on the different ovens. I made it in a round oven which is meant just for baking and grilling. OTG is the best option to choose from.
Step 10: Once the cake is done, allow the cake to cool for about half an hour, loosen the sides using a knife, then invert the cake onto a plate.
Step 11: Cut and serve according to your preference. Melted chocolate would be an ideal option to choose from. :)