This is my first post on Navarathri. I usually get deeply incited with these festive seasons, only because there is a strong relationship between festivals and food. And being a food lover, yes, there is a firm reason for me to be happy. I don't think anyone can resist eating and putting on a few kilos whilst looking at all those wonderful lunch treats and menus planned for a festival.
I am not a firm believer in performing rituals. My approach to rituals is never a detailed one, like how it has to be. Hailing from an orthodox community I am supposed to know a lot of things related to mythical rituals. But somehow, what I know, is just limited to a small level. But yes, when it comes to offerings (Naivedyam), I always felt it brings positive energy when the diety is offered some good food, without onions and garlic.
My MIL used to plan for festive meals most of the time. This time, she had been out of station, so I planned for a simple satvik lunch. Among all the offerings that I had made, beetroot thambuli was Vinay's best-loved. Whilst prepping for it, I was struck by a little amount of conviction as to whether he may like it or not.
Both of us sat down for a quiet festive lunch. After quite some time he exclaimed that he had never tasted such a good thambuli till date and went for a another serving, and that made me happy. I was more happy with fact that, very few ingredients went into this thambuli, it was prepared in about 10-15 minutes and the outcome was a hit. What more can I ask for?
Beetroot Thambuli (Spiced buttermilk with beetroot flavor)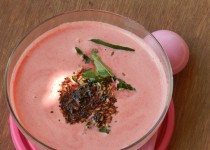 Beetroot thambuli is a spiced form of buttermilk. Additionally it is flavored with beetroot and then seasoned with mustard seeds, cumin seeds, hing and curry leaves.
Prep Time: 20 minutes
Yield: 2-3 Servings
Ingredients:
Instructions:
Step 1: In a small wok, add the beetroot and 1/2 tsp vegetable oil. Let it heat on a medium flame and start stir frying the beetroot with a spoon until the beetroot leaves out a good aroma. Take care not to burn the beetroot. This will generally take 5 minutes.
Step 2: Turn off the heat and let this cool.
Step 3: In a blender add the coconut, green chillies, beetroot, salt and yoghurt and blend the mixture to a fine paste.
Step 4: Add water (150 ml) to this mixture and mix well with a spoon. (Alternatively you can directly use 300ml of ready buttermilk also. Either ways you'll get the same results.)
Step 5: For the seasoning: In a small wok, heat 1 tsp of oil. On a low flame add the mustard seeds and wait till they stop popping. Add in the asafetida (hing), cumin seeds and curry leaves. Turn off the heat after 5 seconds and immediately put this onto the thambuli. Mix and Serve chilled with rice.