When I learnt the virile aspects of Raagi, it was a motivation to include the goodness of Raagi in dosas as well. Raagi can be too heavy for a breakfast but you can serve it in small bite sized quantities that could be very filling. Cabbage on the other hand is a very good digestive aid.
This recipe is a lot easier than the normal Guliappa. You can skip worrying about the batter going unfermented during cold days. Of-course you may have to wait overnight to have the batter ready. You just need to summon into your mind that you need to soak urad dal before you go to bed the previous day. :)
You can make this for a Naivedyam as well. Apart from this, you can make dosas from the same batter and serve.
I'm writing this as a festival post as a part of Ganesh Chathurthi for a savory dish. My next post will subsume a sweet dish for the festival.
Raagi Guliappa / Paddu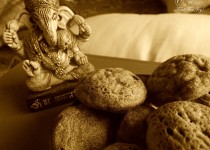 Guliappa is a shallow fried bite sized breakfast recipe that is made from a dosa batter. Raagi Guliappa is my variation wherein Raagi Flour is added instead of rice into the batter. Learn More
Prep Time: 20 minutes
Cook time: 10 minutes
Yield: 7 per 10 minutes / 50 Guliappas in total
Ingredients:
Instructions:
Step 1: Wash and soak urad dal overnight in about 250 ml of water.
Step 2: The next morning, discard the water (if any) and grind the urad dal in a small blender into a paste adding about 4 tbsp of water.
Step 3: To this paste, add the Raagi Flour, Chopped Cabbage, Green Chillies, Dill leaves, Table Salt and the remaining water and mix well. (250 ml)
Step 4: Heat the Aebleskiver pan on a medium flame for five minutes. Add about 1/2 teaspoon of vegetable oil into each cavity of the pan. Add one tablespoon of the batter to each cavity.
Step 5: Cover the pan with a lid and cook for 3 minutes on a medium flame.
Step 6: After 3 minutes turn over the guliappas and let the opposite side cook for 3 minutes.
Step 7: Once its done remove from the pan and serve with red chutney or coconut chutney.
NOTE: Check Aebleskiver Pan for more details on the guliappa pan.